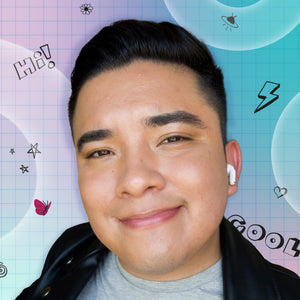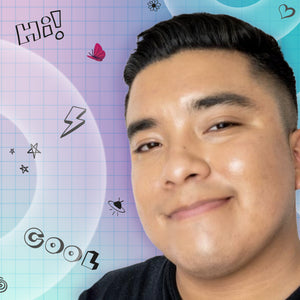 My name is Eddie Motta and I am a skincare content creator on Instagram and YouTube. I aim to become a marriage and
family therapist, but until then I am doing skincare content creation until then and I'm loving it. I think I'll be doing skincare & psychology for the rest of my life. I love it.
I am an empath (a highly sensitive person who can feel the depths of emotions and physical symptoms of  others... hence why I got into psychology), and I am a huuuuuge coffee lover (cafecito porfavor!!) and I love learning about different cultures (food, social norms, music, AGH SO EXCITING!).
I hope to change the world through kindness and understanding!
Eddie: The lowdown
Favorite skincare product?
My Favorite product of all time is definitely the Peach & Lily Glass Skin Mist. I LOVE a dewy complexion and I LOVE mists...so the fact that the peach and lily glass skin mist can give you glass skin in an instant is my favorite product of all time!
What's a cause that is important to you?
Mental Health. Getting anyone and everyone to tackle their mental health issues, setting up boundaries, being mindful, and making your happiness the most important thing in the world. I want everyone to experience life to its fullest because it is too beautiful to sit idly by.
Describe yourself in a hashtag
#caffeinateddoublecleansedandSPF'd
It's Saturday morning. What's the first thing you do when you wake up?
Make a good cup of coffee (or two) and do my stretches, breathe exercises, and then go do my skincare routine!
What's the greatest compliment you've ever received? 
'I wish I knew you when I was younger'
What's your favorite quote?
'Whenever there is any doubt, there is no doubt'
Who was your first celebrity crush?
Bryan Cranston.... and still is. I just met him!
Top 3 things on your bucket list?
- Go to Korea and try all the food and skincare and travel
to Italy and travel through Europe to try all of the cultural food, see the
nature, and learn about the rich history.
-  TRY to reach enlightenment through meditation
and mindfulness
- Travel to try the best teas, wines, liquors, and learn
about the cultural significance and history behind these drinks.
Shop Eddie's favorites & save 20%
Add below routine to your bag and use code: EDDIE20
'My favorite product is the Salicylic Acid & Sea Kelp Pore Clearing and Oil Control Serum. It's the BEST combo of brightening 5% niacinamide and just enough salicylic acid to keep things at bay and lower redness. I love it. The best for the morning and for acne prone individuals!'